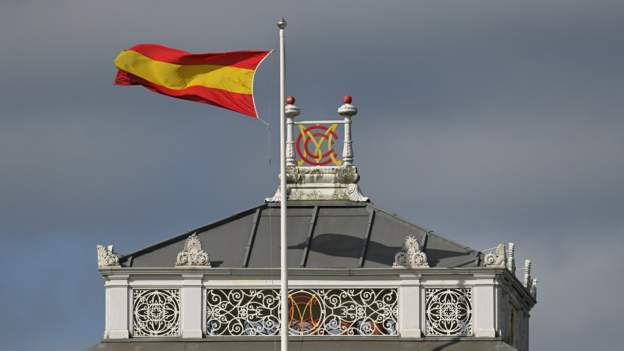 The Marylebone Cricket Club has suspended three members in reference to an altercation with Australian gamers at Lord's on the fifth day of the second Test.
Television footage confirmed clashes between Usman Khawaja and David Warner and spectators within the lengthy room when Australia walked out for lunch.
The incident occurred after England's Jonny Bairstow was controversially stumped by Australia's wicketkeeper Alex Carey.
Australia batsman Khawaja described the feedback as "outrageous".
The MCC mentioned it had apologised "unreservedly" earlier than confirming the suspension of the three members recognized over the incident.
"He will not be allowed to return to Lord's pending an investigation," the MCC mentioned in a press release.
"We believe that the behavior of a small number of members was completely unacceptable and although no one suggested [Australia captain] Pat Cummins said in the post-match press conference that while there was no physical altercation, this type of behavior is completely unacceptable, which goes against the club's values.
"The MCC condemns the conduct noticed and as soon as once more we lengthen our apologies to Cricket Australia."
Khawaja mentioned the members' conduct was "actually disappointing", while Cummins said he thought some people might lose their membership as a result.
"Lord's is certainly one of my favourite locations," Khawaja said. "Respect is all the time proven at Lord's, particularly within the members' pavilion within the Long Room, however that was not the case at the moment.
"Some of the issues that had been popping out of the mouths of the members had been actually disappointing and I used to be not going to simply stand by and counter it. So I simply talked to a few of them.
"Some of them were making some big allegations and I called them out about it and they kept going on and on, and I said, well, here's your membership.
"To be sincere, it's extremely disrespectful. I anticipate a lot better from the members."
Australia asked the MCC to investigate, initially saying there had been "bodily contact" with the players as well as verbal abuse.
Based at Lord's, which it owns, the MCC acts as the custodian and arbiter of the laws and spirit of cricket.
"We have unconditionally apologized to the Australian workforce," the MCC mentioned in a press release.
Anger flared after Carey brought down the stumps to dismiss Bairstow, who left his crease after believing the ball to be dead at the end of the 52nd over in England's second innings.
Australia's players were criticized and words were exchanged between players from both sides as they walked off the field at lunch, before Khawaja and Warner appeared before the members.
"The MCC got here and apologized for the conduct of some members," Cummins mentioned.
"I believe a few of them could lose their membership due to their conduct. Apart from that one time, they have been good all week. Generally good, actually welcoming.
"He was quite aggressive and disrespectful towards some of our players which I know the MCC were not very happy about."
With inputs from BBC